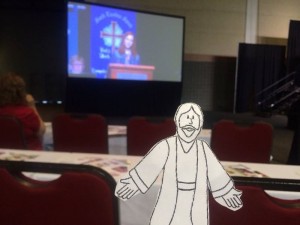 St. Paul started a project that helps us share our faith and reminds us Jesus is with us wherever we go. Our members and extended family have cut out figures of Jesus (Flat Jesus). We invite you to take him with you throughout the summer and take pictures with him. You may write about your adventures. During the summer you can email your pictures to Kevin Boozer. Please include flat Jesus in the subject line and he will post them to the church Facebook page.
At our Sunday School kickoff, bring all your pictures and stories to share.
If you need a Flat Jesus, please contact Cindy Huyck or Janna Richardson.